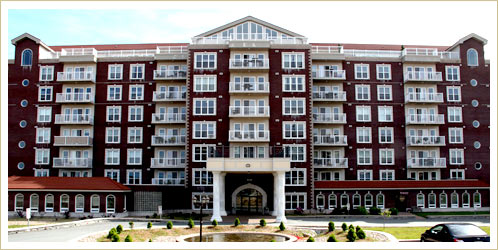 The Rosewood
130 Solutions Drive
Cosmos Properties & Developments is pleased to announce the opening of the Rosewood, the latest building in the Woodcliffe Park Apartments complex on Solutions Drive.
The Rosewood, a luxury Apartment Building, is a step up from the ordinary!
The gracious open concept lobby with its twin sweeping stairs to the mezzanine, elegant chandelier, swimming pool and fitness centre on the left and The Magnolia Room, our common area, on the right is repeated in the spacious design of the one bedroom plus den and two bedroom and two bedroom plus den apartments. Our suites are carefully designed with features such as wood and tile floors, granite counter tops throughout, crown ceiling molding and exceptional wood trim around the doors and generously proportioned windows. Heat, hot water, five appliances, and underground parking with storage room complete our offering.
This building is equipped with an emergency generator to supply electricity to common areas in case of power interruptions.
The Rosewood Hair Salon and Spa
Now open on the 1st floor of 130 Solutions Drive with excellent prices and discounts for our tenants. Call 443-0732 to for an appointment.
For more information please click here.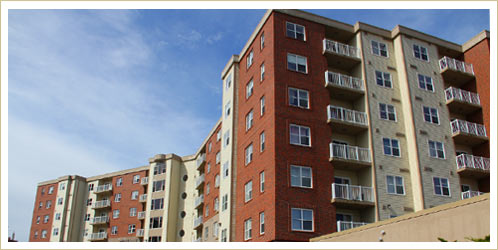 The Greenbank
81 Solutions Drive
Woodcliffe Park Apartments welcomes you to 81 Solutions Drive, The Greenbank, a 96 unit building with underground parking where every detail of luxury has been built into its apartments.
This inviting, smartly designed, open concept lobby has two elevators to serve you and the elegance of an open concept design for the spacious one plus den, two, two plus den and three bedroom suites give all the comfort that will make you feel at home immediately.
Each of the suites have been finished in neutral colors to match any décor or style and includes five top-of-the-line appliances, spacious bedrooms, walk-in closets, and extra storage room spaces – all of this wrapped in a concrete building for a warm and sound proof environment.
You may wish to spend your leisure time in the fitness room, engage in a quiet conversation or challenge your neighbour to a game of chess in The Valerian Room, common/recreational area.